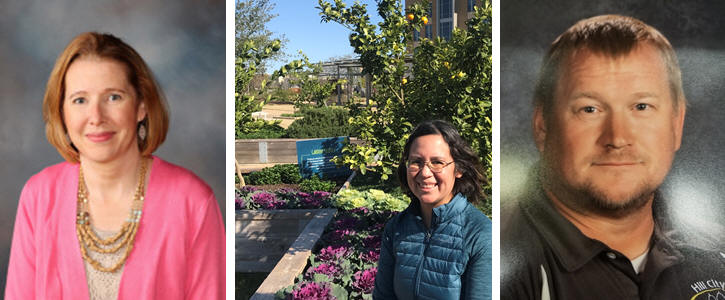 (Left to right):
Jennifer Ekstrum of Kimball Middle School, Kimball, SD was awarded $4,979 for her project focused on: STEM learning and various hands-on, inquiry-based science activities in subjects like biology, geology, atmospheric science, and the properties of water. Jennifer's project will reach 90 middle school students who will then serve as 'Science Buddies' as they reach down and mentor 120 elementary school students.
Brenda Mizenko of St. Elizabeth Seton Elementary School in Rapid City was awarded $3,846 for her project that establishes a Junior Master Gardener Program for grades 3-5 that is aligned with the State's Science Standards. Brenda's project will reach 160 students the first year and then expand to include all K-5 elementary students, as well as introducing the Junior Master Gardener Program to the middle school.
Chad Ronish of Hill City High School was awarded $4,935 for his project focused on the use of drone technology for an aerial geo mapping project to evaluate the balance of the various uses of Black Hills National Forest lands near Hill City. Chad's project will reach 40 HS students, 50-100 at the MS level, and 250 elementary students per year.